Browse Our Categories

Watch any streaming video anytime with an AFM Streaming Membership.
Join Now
FREE 4 MINUTE PREVIEW
Now beginning his 11th year as Head Coach at St. Xavier High School in Cincinnati,
Steve Specht has compiled an 103-33 record with two state championships. Known as a defensive specialist, Coach Specht employs his 3-3-5 as an odd stack front and coverage. He has just completed a four-set series of DVDs now available at AFMvideos.com. This fourth video details how Coach Specht defends the spread offense.
In this DVD, you will learn:
· Priorities based on the type of quarterback that you are facing.
· Responsibilities if a wide receive requires double coverage.
· What concepts to use if the passing game is focused on backside isolation or the front side concept.
· How to defend a running quarterback.
· How the offensive blocking scheme determines responsibility – both the linebacker and defensive end react accordingly to the offensive scheme.
· Base – read schemes including a 'backside scoop' and 'backside base.'
· Defensive stunts which predetermine responsibilities.
· Predetermined 'edge' and 'nasty' stunts.
· An additional safety in the box provides a bonus defender and the defensive call predetermines responsibility.
· The predetermined 'flash' stunt.
· How to defend the 'key' receiver.
· How to identify and then eliminate the 'key' receiver.
· Specific types of coverage in identifying the 'key' receiver – 'mouse' and 'snake' coverage.
· How to take away the 'concept side.'
· Identifying concept coverages.
· To use various coverages – 'cover 6' with a 4 man pattern, 'silver coverge' with a 5 man pattern, and 'bronze coverage' with a 5 man pattern.
This DVD includes actual game footage to illustrate defending the spread.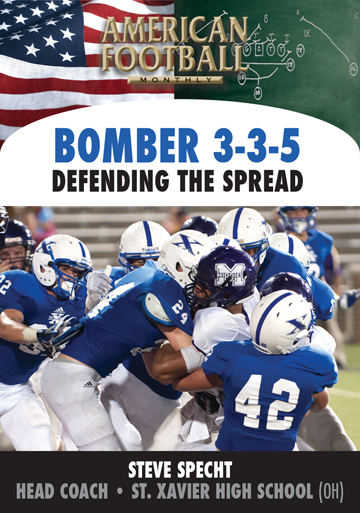 $39.95

$19.95
Download Only(No DVD)
People who bought this also bought:
AFM Member
AFM Subscriber Discounts
SAVE on DVDs
Click Here to Qualify
Purchase Orders
Need to use a purchase order?
Email
us your P.O.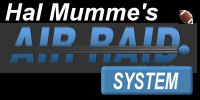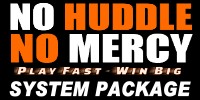 Best Selling