Browse Our Categories

FREE 4 MINUTE PREVIEW
Shawn Liotta is the offensive coordinator at Clairton High School (PA), a team that averaged nearly 60 points per game last fall. His team also averaged 12.8 yards per play and 510 yards in total offense per game. He accomplished this with his prolific 'No-Huddle, No-Mercy' offense.
5 DVD Set. You willl Receive all 5 DVDs in the series.
In this first DVD, Coach Liotta discusses 'The Basics of Playing Fast and Winning Big.' In this DVD you will learn:
Coach Liotta's offensive philosophy.
The concept of playing fast.
The 8 keys to successfully running the 'No-Huddle, No Mercy' offense.
What effect playing fast has on your opponent's defense.
Specific play calling codes you can use in your offense.
Pre-snap procedures by formation.
Personnel groupings.
Formations including one-back, stack, trips, tornado, two-back, rambo, no-back sets, and three-back sets.
How to effectively use various types of motion.
'Jump' - when two or more players shift into the final formation.
Pass protection procedures and how to handle the blitz.
A detailed in-season practice plan.

Purchase of the No Huddle DVDs includes downloads of the power points, and the game day call sheet, available here
In this second DVD, Coach Liotta details his running game. In this video you will learn:
Specific running game objectives.
A run game overview including 3 base concepts and complimentary runs.
Identifying the defense in order to attack it.
Base defensive fronts including the 32, 42, 43, 34 and Bear.
The importance of protecting the box with screens.
The concept of the run game with screens attached.
6 motions used in the run game - Jet, YoYo, Loop, Early, River/Lake and Ram/Lion.
Attacking various coverages to Jet Motion.
Power running concepts with blocking rules.
Actual run plays including Jet Power, Power with a Screen Attached, Power Option, and QB Power.
How to create conflict with a false key.
Inside Zone concepts including blocking rules.
Run plays from the Inside Zone including motion, trips, early motion, jet motion, and two-back inside zone.
Outside zone concepts with blocking rules.
In his third video, coach Liotta focuses on the Clairton passing game. In this DVD, you will learn:
An overview of the Clairton passing attack.
The 6 keys to a successful passing attack.
Coaching rules for protecting the QB.
Basic pass protection concepts.
Rules for both slide and sprint out protection.
Key facts in identifying defensive coverage.
Quick passing game concepts including the hitch, stick and slant.
Concepts for the 4-Verticals series including identifying landmarks.
4-Vertical pass plays with one-back, two-back, trips, and comeback plays.
The Sail Series with one-back, two-back, trips, and the sprint-out flood play.
The Shallow Series including early motion, trips, curl, verticals, comeback, zone action and jet action.
Draw plays including Wrap Draw, as well as play-action and bootleg plays.
In this DVD, the fourth of the five-set series, Coach Liotta details his screen package. Successful screens accounted for 30-40% of Clairton's passing yardage. In this DVD you will learn:
The 7 advantages of the screen game.
Clairton's screen package philosophy.
How a successful screen game will stress the defense.
How Clairton attacks depth and leverage.
Coach Liotta's five different types of screens – quick, slow, double, those packages with runs, and sucker and gadget screens.
Four different types of bubble screens.
Specific blocking responsibilities for screen plays.
Diagrams for screen plays – trips, empty, and early motion.
Diagrams for outside WR fast screens – with deuce personnel, trips, empty, and jet motion.
Diagrams for inside WR fast screens including the sucker play.
Fast screens attached to run concepts.
Slow screens including the slip screen, play-action screens, and with the quick game attached.
Key screens including the double and triple screens.
Screen Drills that you can practice every day.
In his fifth DVD, Coach Liotta describes the priorities of his game planning and play calling. In this DVD, you will learn:
An 8 step-by-step process in developing your game plan.
The complete game plan process from Saturday through Friday –what should and needs to be done day-by-day.
What should your priorities be in your film review?
How do you examine the personnel you'll be playing this week?
What are the critical priorities in your own self-scouting?
How to present the scouting report and game plan to your players.
The actual contents of the scouting report.
The process of installing the game plan.
The advantages of practicing with tempo.
The details of the actual game day call sheet.
Prioritizing your offensive inventory – base run, base pass, and various screen plays.
The various field attack zones.
An understanding of contingency and situational planning.
The importance of having answers in game situations.
How to handle both game changes and pressure situations.
How to prioritize both in-game and halftime adjustments.

Here is a note from a coach installing the no-huddle no-mercy offense successfully at the middle school level!!

"Shawn Liotta's No Huddle No Mercy Coaches manual has been a great resource. Any Coach looking to gain an advantage over their opponents, should adopt this style. Not only are there X's and O's drawn up in this Manual that catapulted Coach Liotta's Team to break many National scoring records but he personally has been a great resource for me. He is always willing to talk football and help with any questions or provide additional resources to ensure your success. The concepts are simple and effective. I appreciate Coach Liotta's willingness to give back to the football community. The No Huddle No Mercy Coaches Manual is well worth the investment."

Michael Clegg
Marvin Ridge Middle School - Offensive Coordinator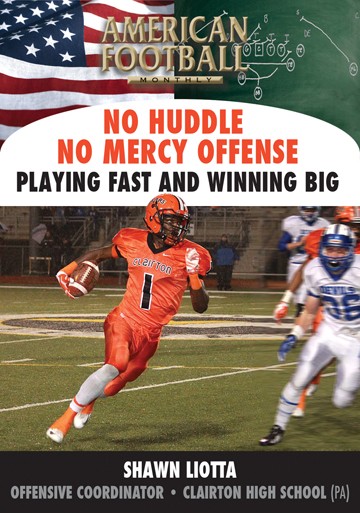 $199.75

People who bought this also bought:
AFM Member
AFM Subscriber Discounts
SAVE on DVDs
Click Here to Qualify
Purchase Orders
Need to use a purchase order?
Email
us your P.O.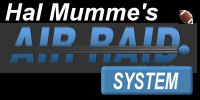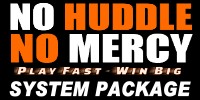 Best Selling