Browse Our Categories

WN-16024 - Converting the College 4-2-5 to an Efficient High School Defense - Split and Whole Field Coverage
FREE 4 MINUTE PREVIEW
Coach Justin Conyers has taken the college 4-2-5 defense and converted it into an efficient high school defense. With principles taken from the coveted 4-2-5 defenses at both TCU and Virginia Tech, Coach Conyers recently completed a five-set series of DVDs. This specific DVD, #4 in the series, describes the principles and rules for both split and whole field coverage. Now the head coach at Green Run high School in Virginia Beach, Conyers helped lead Nansemund Suffolk Academy to a Virginia State Championship in 2015.

In this DVD you will learn:

· The importance of the Line of Demarcation; that is, the point in a route where the two different corners no longer switch – it is 7 yards from the LOS.

· Split field coverage that allows you to run independent coverage on different sides of the field.

· After seven yards, the 'Devil' or free safety make the call.

· Read-side coverage and away-side coverage.

· When to use robber coverage with the offense's use of a tight end.

· The corners and safeties have specific rules to follow with their specific coverages.

· Specific read-side coverages include 'Maverick' where the corner and safety read the #2 receiver.

· Quarters coverage which includes different responsibilities for the five defensive backs.

· Away-side coverage includes 'Maverick' with a switching man-to-man defense.

· On split coverages, the importance of the 'Uno' call.

· On away-side coverages, the corner and the 'Devil' play man-to-man coverage.

· Special coverges include 'Uno', 'Uno Hot' and 'Deuce Slice' coverages.

· For whole field coverage, colors indicate the coverage.

· Importance of specific rules for split field and whole field coverage.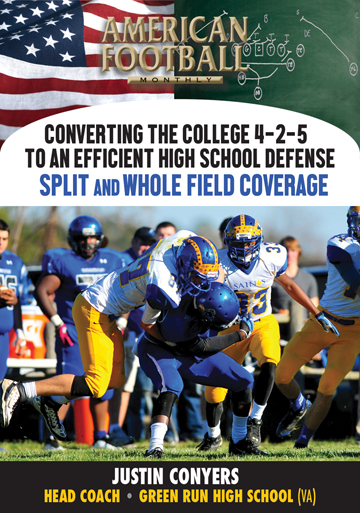 $39.95

$19.95
Download Only(No DVD)
People who bought this also bought:
AFM Member
AFM Subscriber Discounts
SAVE on DVDs
Click Here to Qualify
Purchase Orders
Need to use a purchase order?
Email
us your P.O.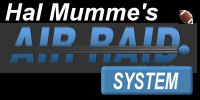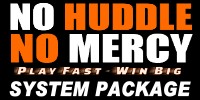 Best Selling