Browse Our Categories

Watch any streaming video anytime with an AFM Streaming Membership.
Join Now
FREE 4 MINUTE PREVIEW
In this DVD, the third of a three-set series, Coach Taylor Burks details what adjustments can be made against every type of offensive scheme. Burks is the Defensive Coordinator at Hillwood High School in Nashville and coached the defense at Georgia Military College for nearly a decade. He helped develop the 3-5-3 defense while at GMC and had the Bulldogs ranked consistently among the top defenses in the country.
In this DVD, you will learn from Coach Burks:
· The importance of gap control.
· What adjustments can be made against the Pro-I formation.
· Using an overfront or an underfront effectively.
· How to make adjustments vs. a twins formation.
· What adjustments should be made against a doubles formation.
· Adjustments that can be made against a one-back and two-back set with or without a tight end.
· How to limit what the offense can do by front coverage, pressure, and stunts.
· Two tight end set adjustments.
· Ways to change the offensive line's blocking schemes.
· Boundary and field adjustments that can be made depending on where the ball is.
· Roll 3 coverage – three defensive backs having responsibility for one-third of the field.
· Adjustments vs. a trips formation.
· Ways to counter the Wing-T.
· Adjustments vs. a spread set and the inside zone play.
· How to maintain an attacking defense.
31 mins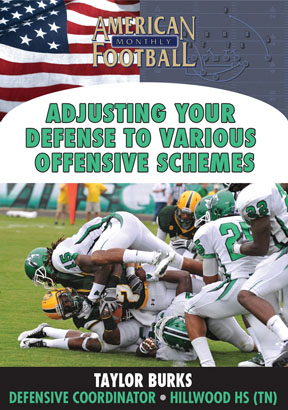 $39.95

$19.95
Download Only(No DVD)
People who bought this also bought:
AFM Member
AFM Subscriber Discounts
SAVE on DVDs
Click Here to Qualify
Purchase Orders
Need to use a purchase order?
Email
us your P.O.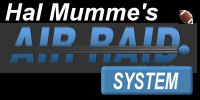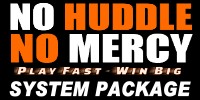 Best Selling