Browse Our Categories

Watch any streaming video anytime with an AFM Streaming Membership.
Join Now
FREE 4 MINUTE PREVIEW
Two years ago, Central Florida's Kickoff Return unit finished fifth nationally in the country under Special Teams Coach Tim Salem. Now at the University of Illinois, Coach Salem recently completed a series of DVDs on special teams play. This video focuses on the kickoff return – what is the philosophy and strategy of return coverage and what types of players are needed to maximize your return?
In this DVD, you will learn from Coach Salem:
· Why setting the tempo for the offense is important.
· The critical nature of staying on your block – B – O – B.
· The objectives, musts, and alerts, of the kickoff return.
· The importance of knowing the game situation on every return.
· Seeing the position of the tee, the ball and the laces before every kickoff.
· Why the front line is thinking onsides.
· The critical element of ball security.
· Rules for the deep backs.
· Why research and film study of your opponents kickoff is important. Where are they most likely to kick the ball?
· Why you must keep your eye on the kicker until he actually kicks it.
· All blocks must be in front of your opponent and above the waist.
· The importance of having the right players in the right positions for player responsibilities and assignments.
· Why it is critical to eyeball the man you are assigned to block.
· Detailed assignments on specific returns and wedge sets formed to maximize kickoff return coverage.
32 mins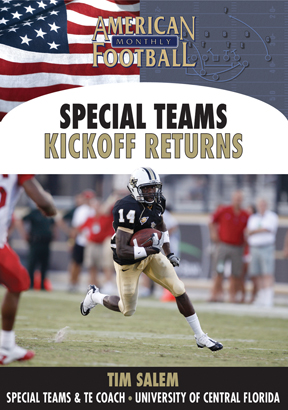 $39.95

$19.95
Download Only(No DVD)
People who bought this also bought:
AFM Member
AFM Subscriber Discounts
SAVE on DVDs
Click Here to Qualify
Purchase Orders
Need to use a purchase order?
Email
us your P.O.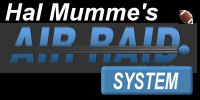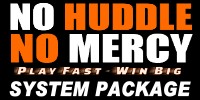 Best Selling