Browse Our Categories

Watch any streaming video anytime with an AFM Streaming Membership.
Join Now
FREE 4 MINUTE PREVIEW
Ron Aydelott
Head Coach, Riverdale High School
Murfreesboro, TN
Over the last 13 years as a head coach at both Hillsboro High School and Riverdale High School in Tennessee, Coach Ron Aydelott has run the Wing-Bone to nearly perfection. His overall record: 96-13 and a state championship. Coach Aydelott's Wing-Bone is not a formation but a system utilizing four backs in the most multiple offense available. In this first of four instructional videos, Coach Aydelott describes in detail the counter game including the Option Counters, Jet Series Counters, Rocket Counters and Quarterback Counters.
In this video, you will learn from Coach Aydelott:
* Maximizing your offense in each series through five components-the inside threat, off-tackle threat, perimeter threat, counter threat, and the play action pass threat.
* Spreading the defense so that the defense can't run to the ball and making the defense play assignment football.
* The concept of the counter play--spreading the defense and slowing down pursuit.
* The TAG (tackle and guard) counter trey concept.
* The TATE (tackle and tight end) counter plays. * Counters for the Trap, Option, Jet Series, Rocket, and Quarterback Counters.
* How to create counter plays to enhance your specific offense.
* BONUS CHAPTER (what ifs?): Coach Aydelott covers what defensive fronts may be used to defend the counter play.
Coach Aydelott:
"The Wing-Bone is more than just an offense but a system that uses a variety of backs in multiple formations. The counter game is the basis of our offense and this DVD details a number of plays that will spread your opponent's defense and slow down pursuit."
This video contains extensive use of game film.
2008- 71 minutes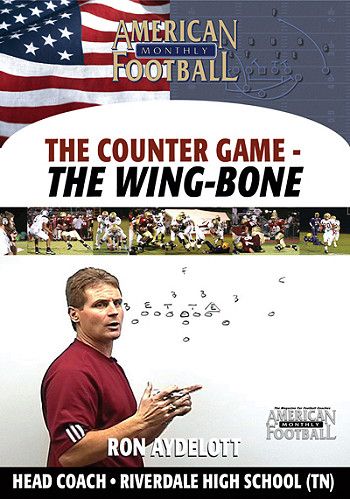 $39.95

$19.95
Download Only(No DVD)
People who bought this also bought:
AFM Member
AFM Subscriber Discounts
SAVE on DVDs
Click Here to Qualify
Purchase Orders
Need to use a purchase order?
Email
us your P.O.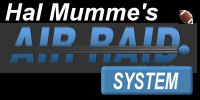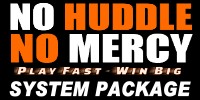 Best Selling