Browse Our Categories

Watch any streaming video anytime with an AFM Streaming Membership.
Join Now
FREE 4 MINUTE PREVIEW
Heath Evans, RB New England Wes Welker, WR New England
6 Steps To Becoming a Great Wide Receiver
2008
WN-08383
38 minutes
$39.95
This DVD is one of the first of its kind to be designed for both coach and player. The ideal candidate for improving wide receiver play--Wes Welker--is a pro player that 99% of high school and college athletes can relate to. Wes Welker came close to not getting a Division I-A scholarship. He then was an undrafted free agent after playing at Texas Tech. Cut by San Diego, he played briefly in Miami before moving to New England. Last year, the 5-9, 185 pound Welker caught 112 passes and is now considered the premier slot receiver in the game. In this DVD, Welker gives a unique perspective only a professional player of his experience can give you. '6 Steps To Becoming a Great Wide Receiver' includes the best ways to get off the line of scrimmage, how to run great routes, and ways to develop quick feet.
In this DVD, you will learn:
* The intangibles needed to become a great wide receiver.
* What to focus on before the snap.
* Specific moves to shed the defender and get off the line as efficiently as possible.
* Perfecting three routes: the hitch, slant, and go.
* Drills to improve your blocking, footwork, release, and routes: The Stalk Blocking Drill, Quick Feet Drill, Release Drill and Box Receiving Drill.
* Learning not to let the ball cross your eyes when running a crossing route.
* Practicing to never cross your feet.
Wes Welker:
"Paying attention to detail makes the difference. Whether it's blocking downfield, trying to get off the line as quickly as possible, or running a hitch route, the little things--the detail--makes the difference. The drills and techniques in this DVD will help you become a great wide receiver."
This DVD contains extensive on field demonstrations.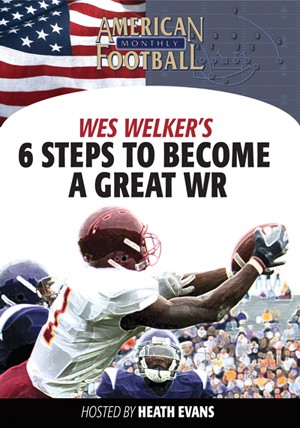 $39.95

$19.95
Download Only(No DVD)
People who bought this also bought:
AFM Member
AFM Subscriber Discounts
SAVE on DVDs
Click Here to Qualify
Purchase Orders
Need to use a purchase order?
Email
us your P.O.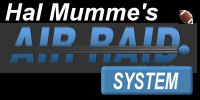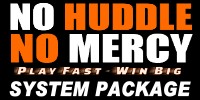 Best Selling