Browse Our Categories

FREE 4 MINUTE PREVIEW
The Fast Tempo, High Scoring No Huddle No Mercy Offense Coaches Manual - Digital Download
133 Pages of Diagrams, Charts and Notes from the DVD series.

Digital Download Only no Hard Copy will be sent.

If you are looking for the Hard Copy Click Here
Shawn Liotta is the offensive coordinator at Clairton High School(Clairton, PA) and the Head Coach of the Erie Explosion of the Professional Indoor Football League. In 2014 Liotta's no-huddle, no-mercy attack shattered nearly every school record for the Bears as they led the entire nation in scoring (958 points) and finished with 8,132 total yards of offense. In addition to serving as a head coach at the professional indoor level for the past nine years, Liotta has spent 16 years at the high school and collegiate level as a head coach or assistant in the State of Pennsylvania. For more information on Coach Liotta you can visit his website at shawnliotta.com This manual is a compilation of instructional material used to install and teach this offense, 133 pages!
Digital Download Only no Hard Copy will be sent. Download the Manual Here:
http://www.americanfootballmonthly.com/nohuddlenomercy/index.php



Here is a note from a coach installing the no-huddle no-mercy offense successfully at the middle school level!!

"Shawn Liotta's No Huddle No Mercy Coaches manual has been a great resource. Any Coach looking to gain an advantage over their opponents, should adopt this style. Not only are there X's and O's drawn up in this Manual that catapulted Coach Liotta's Team to break many National scoring records but he personally has been a great resource for me. He is always willing to talk football and help with any questions or provide additional resources to ensure your success. The concepts are simple and effective. I appreciate Coach Liotta's willingness to give back to the football community. The No Huddle No Mercy Coaches Manual is well worth the investment."

Michael Clegg
Marvin Ridge Middle School - Offensive Coordinator

People who bought this also bought:
AFM Member
AFM Subscriber Discounts
SAVE on DVDs
Click Here to Qualify
Purchase Orders
Need to use a purchase order?
Email
us your P.O.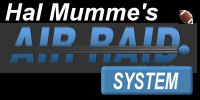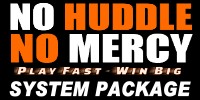 Best Selling