Browse Our Categories

Watch any streaming video anytime with an AFM Streaming Membership.
Join Now
FREE 4 MINUTE PREVIEW
Two years ago, the University of Central Florida's kickoff coverage unit finished third in the nation in return defense, allowing only 17.48 yards per return. The unit was led by their special teams coach Tim Salem who recently completed a series of DVDs on different elements of special teams play. In this DVD, the first of a four-part series, Coach Salem includes the key elements to maximizing your kickoff coverage, what types of players best fill the roles on this unit, and coverage principles.
In this DVD, you will learn:
· The important of attitude among kickoff coverage personnel.
· How kickoff coverage sets the tone for your defense.
· The importance of the 'lead the team down the field' effort.
· The critical element of 'lane integrity.'
· How to find the right group of players for your kickoff coverage unit.
· Why being both nasty and physical is crucial to kickoff coverage success.
· Why having courage and desire are necessary for successful coverage.
· Coverage principles – the importance of hitting that first forty yards after kickoff as fast as possible – a flying forty mentality.
· Coverage timing – expecting a hang time of 4.0 on the kick and a 1.0 adjustment by the returner which gives the unit a full five seconds before impact.
· How to take on blockers in specific lanes.
· Kickoff coverage alignments and responsibilities.
· What is critical to avoid as a member of the kickoff coverage team.
· Actual game film of UCF's kickoff coverage – left kickoff, left or right kickoff, and right kickoff coverage.
· Attitude is critically important to your kickoff coverage unit We believe in the motto: "Deliver, Disengage, and Finish."
43 mins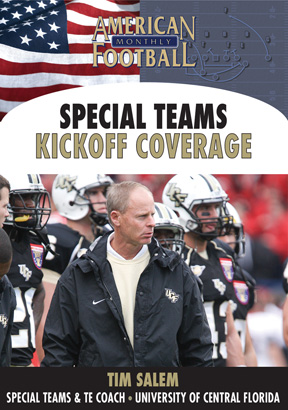 $39.95

$19.95
Download Only(No DVD)
People who bought this also bought:
AFM Member
AFM Subscriber Discounts
SAVE on DVDs
Click Here to Qualify
Purchase Orders
Need to use a purchase order?
Email
us your P.O.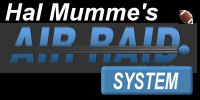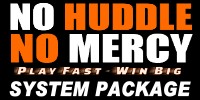 Best Selling