Browse Our Categories

AFM Videos The Leader in Football Education!
Football Coaching Videos
Watch any streaming video any time with an AFM Streaming Membership
Join Now
Watch Premiere videos on DVD, or Buy Now watch Now
| | | | | |
| --- | --- | --- | --- | --- |
| Records 21 to 30 of 30 - Category: Books | | | | |
Premiere Videos

Premiere Videos are only available on DVD and Buy Now Watch Now Streaming, premiere videos will be released to streaming members at a later date. Premiere videos also contain extra value in production, quality and soon to be anounced content.

All our videos play on any device. Premiere videos can be watched online in your digital video library.

Streaming Videos

Streaming videos are avaialable on DVD, and online playback for all streaming members there are over 350 streaming videos.

All our videos play on any device.





Streaming Video The wing-T offense is one of the most flexible offenses in all of football. On any given play, the wing-T offense gives you the versatility to run, pass or to use the option. This makes the Wing-T extremely difficult for opposing defenses to prepare and game plan for. In this jam-packed report, youl ... more

$ 7.95






Streaming Video This is the ideal tool to help you on the practice field. This 6 x 8 1/2-inch durable, see-through plastic pouch conveniently clips onto your pants or belt to allow for eacy access to your practice plans, drill memos, playbook diagrams and practice field notes. This practical tool allows you to keep ... more

$ 8.95






Streaming Video

This special coaching report details all the critical ins and outs of running the Single Wing Offense in todays modern game! Complete with articles, drills, in-depth strategies and over 100 diagrams from some of today brightest and best single wing coaches, this report is guaranteed to open your ... more

$ 9.95






Streaming Video The Wing-T Offense has long been one of footballs most unpredictable, tough-to-stop offenses. This information-packed 16-page Special Coaching Report highlights some of the Wing-T Offenses most powerful plays, as well as takes an in-depth look at the blocking schemes and responsibilities for the off ... more

$ 9.95






Streaming Video Young players with naturally strong arms are immediately thrown into the quarterback position, but if that player isnt trained and groomed properly for the QB position, hell never develop the skill level necessary to guide your team to a winning season. This comprehensive report, written by national ... more

$ 7.95






Streaming Video Todays football players must work at their strength and conditioning year-round to be competitive come fall. This informative 24-page Special Coaching Report written by Hank Schrader, a National Strength and Conditioning Association certified specialist and football coach, offers you complete guidel ... more

$11.95






Streaming Video The editors of Gridiron Strategies have culled some of the finest playbook plays to have ever appeared in the publications popular Playbook section and gathered them together in this 8-page Special Coaching Report. Jammed with over 20 game-tested plays from some of the brightest coaching minds in th ... more

$ 7.95






Streaming Video Looking to gain an extra edge during that critical pre-season practice time? This 16-page report details the results of a national coaching survey that canvassed how high school coaches plan and approach their pre-season practices. Benchmarks are provided on items such as off-site camps, 2-a-days, s ... more

$11.95






Streaming Video Searching for new looks on the goal-line that you conference opponents have never seen before? Thsi brand-new report features dozens of the best goal-line plays hand-picked from the top coaching minds in the country. With thorough diagrams and complete player-responsibility descriptions, you can imm ... more

$11.95






Streaming Video If youre looking for a bruising defense that will shut down an opponents running game, this action-packed 16-page report is loaded with defensive fronts, diagrams, schemes and coverages to help you build a stone wall at the line of scrimmage! Complete with nine defensive front calls, secondary rules ... more

$ 9.95

| | | | | |
| --- | --- | --- | --- | --- |
| Records 21 to 30 of 30 - Category: Books | | | | |
AFM Member
AFM Subscriber Discounts
SAVE on DVDs
Click Here to Qualify
Purchase Orders
Need to use a purchase order?
Email
us your P.O.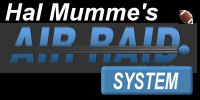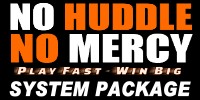 Best Selling